Basic principles of seismic measurements
When applying seismic measurements the ground will be examined with ultra-sonic waves in order to produce a seismic echo. By reflection or refraction of the sound waves to the border areas of various rock layers, geological formations are detected.
The interpretation of the recorded sound waves by geophones makes it possible to know how large deposits of petroleum and natural gas are and at what depth they occur. Seismic search has established itself as a central procedure for the purpose of finding storage facilities of petroleum, natural gas and geothermal energy.
Seismic proceedings and investigations to explore oil fields, natural gas fields and the use of geothermal energy
The search for occurrences by seismic "onshore" is done mostly by explosive seismic or carried out by vibro-trucks. When applying offshore seismic special ships equipped with airguns (Pulser) are being used in order to explore oil and gas fields in the sea via air pressure waves. Seismic procedures differentiate between 2D-seismic and 3D-seismic.
Seismic explosions
Seismic explosions are small explosive charges and are detonated in about 20 to 30 m deep drilling holes. By analyzing the sound waves using geophones there can be drawn clear conclusions on the occurrence of oil, gas or geothermal energy.
Seismic truck measurements
Seismic measurements by seismic trucks or vibro-trucks are ultra-sonic waves that are being send into the ground from vibrators mounted on or below trucks . The measurement by vibro seismic is very well suited for built-up areas, since those vibrations are much lower in comparison to explosive seismic.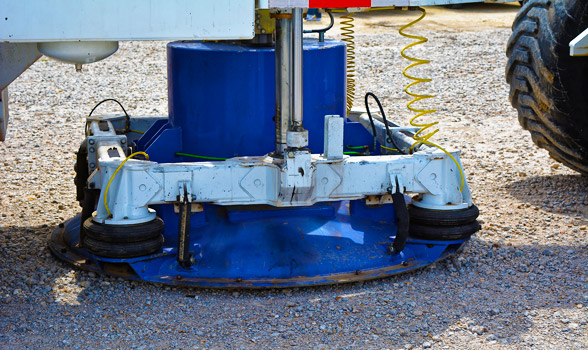 2D-seismic
Measurements using 2D-seismic are frequently used in the early phase of explorations in order to gain conclusions on the occurrences of petroleum, gas or geothermal energy through a 2-dimensional image of the geological formations.
3D-seismic
When 3D-seismic is used, several grid-shaped arranged geophones and sound channels distributed on a surface. Compared to the two-dimensional 2D-seismic, 3D-seismic offers a much more detailed exploration of the precise location of oil and gas occurrences. Seismic 3D-measurements are used especially in Germany already for many years for exploring geothermal energy resources and storage facilities for the oil and gas industry.
Specialized Service Providers for seismic measurements
Specialized companies are usually instructed with the implementation of seismic measurements. For successful project management and monitoring experienced experts are often engaged as additional project manager and/or outsourcing partners.